Anesthesia Accessories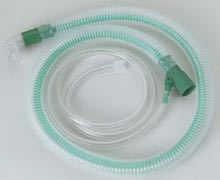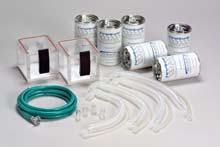 Anesthesia Breathing Circuits
Non-Rebreathing Circuits
Tubing and Adapters
Anesthesia Bags
Breathing Circuits
Tubing Adapters
Masks
Nose cones
Induction Chambers
Custom High Pressure Hose Assembly
Charcoal Canisters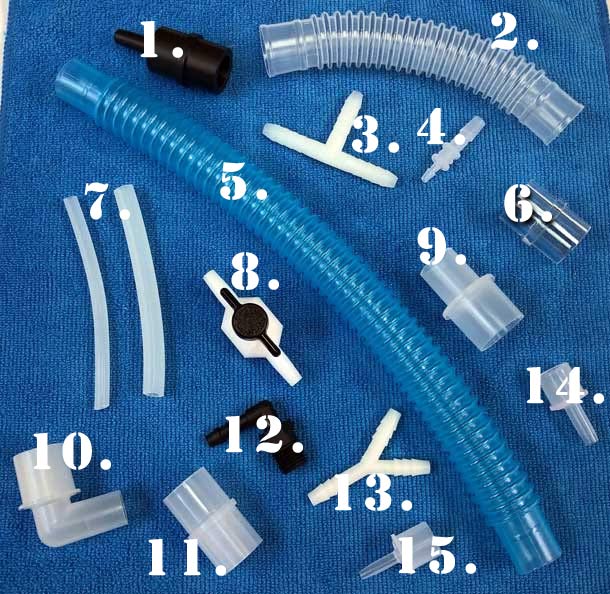 Pictured above:
PART #931315, ADAPTER 22MM X ¼" TUBING BARB
PART #931436, 22MM TUBING PER FOOT
PART #TEE, ¼" TUBING TEE
PART #US-64370, ADAPTER 1/8" TO ¼"
PART #931435, 19MM TUBING PER FOOT
PART #304501, 22MM OD & 15MM ID
PART #172104, ¼" SILICONE TUBING
PART #921433, STOPCOCK
PART #81915B, TOP HAT ADAPTER
PART #06113, MASK ELBOW
PART #81915, ADAPTER
PART #BARB-1.4, TUBING ¼" X 1/8" NPT
PART #304789, ¼" TUBING WYE
PART #00-309-05, ET ADAPTER ¼"
PART #00-309-03, ET ADAPTER 1/8"
PART#2800546, 1/8" SILICONE TUBING
---
Modified Bain Circuit
A smaller-than-standard Bain circuit with the fresh gas delivery tube inside the reservoir/waste gas tube. The fresh gas delivery tube is 1/16" ID, the containment/reservoir tube is 1/4" ID with the nose end flared to create an anesthesia facemask. Connects to standard 19mm and 22mm evacuation tubing or ask us about option for house vacuum connection.
PART #941461 9mm nosecone circuit
PART #941462 12.5mm nosecone circuit
PART #941463 14mm nosecone circuit
---
VetEquip Induction Chambers
Positive sealing gasket at lid to help prevent leakage.
Confines models while allowing anesthetic gas to be circulated throughout the chamber.
Large easy-to-use latches
Standard anesthesia size inlet and outlet ports.
Durable, clear acrylic construction.
Non-skid feet
PART #941443 Induction Chamber, 1 Liter, 3.75"W x 4.50"D x 3.75"H
PART #941444 Induction Chamber, 2 Liter 3.75"W x 9.00"D x 3.75"H
PART #941448 Induction Chamber, 7 Liter 8.25"W x 8.75"D x 5.75"H
PART #941454 Induction Chamber, 15 Liter, 15.00"W x 7.50"D x 7.75"H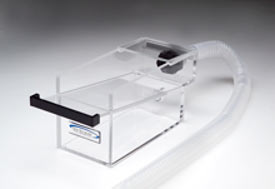 PART #942102 Vented Induction Chamber - 2 liter, Overall: 13.0" x 5.5" x 6.0"
PART #941447 Vented Induction Chamber - 7 liter
NOTE: Ideally vented chambers would be connected to in house exhaust with a minimum of 11CFM air movement. In absence of that, you may connect to the VetEquip Scavenging Cube, Extract-All or Filtermate Exhaust units.
---
The Rodent Isoflurane Facemask
Anatomically correct design minimizes leakage and risk to the technician, as well as optimizing accessibility. Includes choice of three mask sizes, silicone tubing and proper connections for passive or active waste gas scavenging.
PART # OS-3 (complete set with tubing and connections)
PART # XRM-S, XRM-M, XRM-L, XRM-XL (individual sizes)
VetEquip Dual Procedure Circuit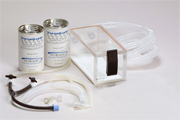 Allows one anesthesia machine to be used for simultaneous multi-patient induction and single-patient maintenance.
Includes:
2-liter Induction Chamber
Mapleson E Breathing Circuit
2 Activated Charcoal Filters
2 Stopcocks
6 feet - 22mm evacuation FlexHose
15mm friction connector for easy connection to existing anesthesia machine
PART # 921400
CX-R Non-Rebreathing System
Designed for use with rodents up to 400 grams, the CX-R will effectively scavenge up to 100% of all waste anesthetic gases when connected to an externally vented in-house vacuum or stand alone vacuum source with charcoal filter like the VetEquip Scavenging Cube.

PART #941616
Search CMS: