Surgical Suite Equipment
Colonial has the products to assist in a more efficient and reliable surgery suite.
OxyVet Oxygen Concentrator
Key Features:
A full 8LPM O2 flowrate capability - gives better performance at lower flow rates
20PSI pressure output - your anesthesia system was designed to work from pressure
O2 concentrations average 93% +/- 3%
Built-in Low O2 Concentration Alarm
Small footprint of 15"x15"x22"
Remarkably quiet
Save money over time vs. tanks
Eliminate contamination hazards of tanks coming and going in your facility
Works with ALL manufacturer's brands of anesthesia systems
How does this work?
Using simple Pressure Swing Adsorption (PSA) technology and a molecular sieve, the unit draws in room air, compresses it, and passes it through a series of filters. Nitrogen is stripped out of the airstream and held by the sieve, while O2 and other gasses are passed to a holding cell. The pressure is released from the sieve and Nitrogen is released back out to atmosphere by virtue of the lack of pressure. This process is repeated over and over by two separate sieves working in alternation to keep a high concentration of O2 ready for use at all times.
Part # 931614
751412 Filter, O2 unit foam, primary (black)
751414 Filter, O2 unit foam, secondary (green)
ProStation Heated Workstation
Warm water is circulated through this compact rodent workstation using any warm water heat source currently available. Dimensions: 3/4" high x 5" wide x 13" deep
Part # 78914731
Adroit Warm Water Pump
Water circulating pump effectively warms animals to assist in body temperature maintenance during surgery, in recovery and in critical care.
Part # 000A4084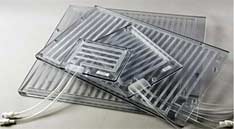 Connects to the Hallowell Hardpads. Durable polycarbonate construction. Claw, bite, scalpel, needle, and towel clamp proof. Smooth Surfaces are easy to clean helping to prevent infection.
Part # - various size pads available
Anthony Cylinder Transport Carts
High tensile strength steel offers greater durability
Large, quiet, easy rolling wheels

Part # 6124 / 6105-M6
See the complete line of Midmark products: midmark.com
Search CMS: