Laboratory Anesthesia
Colonial Medical is an authorized full line distributor of VetEquip Products.
VetEquip Mobile Compac5
A revolutionary anesthesia system that combines the best features of every VetEquip system! The COMPAC5 has two independent breathing circuits and one to three independent vented induction chambers.
All circuits, chamber or breathing, are independent of each other
All circuits have a "flip-switch" choice of 1/2 LPM, 1 LPM or OFF
Chambers are heated with standard warm water pump
All chambers and circuits are vented; no pollution, no chamber flushing
Set it on a counter top, carry it to the next room, tuck it in a cupboard, it's 13" x 13" x 15"
VetEquip Mobile Compac5:

Part # 901816

Dual E Cylinder yoke (sold separately):

Part # 932025
RODENT CIRCUIT CONTROLLER - RC2 PLUS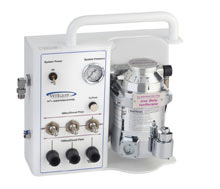 Maintain accurate flow rate to any circuit or chamber
Button operated flush assembly for chamber circuit
Three-way switch to deliver 500cc or 1000cc to each output
Indexed CPC quick connect outlet for other applications
Tabletop, mobile or wall-mounted options
Option to add on a vented chamber docking station

Part # 905300
VetEquip RC2
Maintain accurate flow rate to any circuit, unlike stopcock or gang-valve delivery systems
Simple to use-NO calculations
Comes with short, easy to follow protocol
Specific flow to each animal, regardless of number of circuits in use or length of tubing
With one vaporizer and 6 individual connections, connect as many circuits or chambers as you need in any combination
Preset flows at the flip of a switch-No flowmeter adjustments

Part # 922100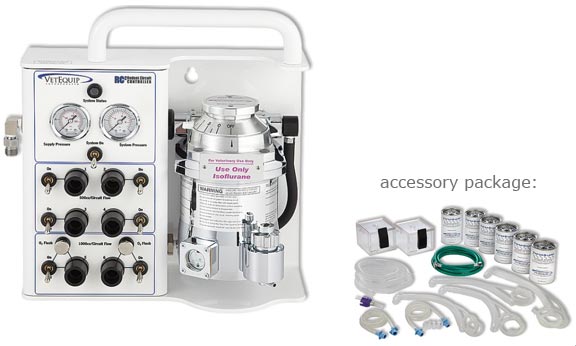 VetEquip IMPAC6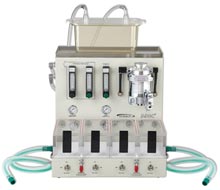 An anesthesia system designed for high volume onlinecasinogo.com, assembly-line type procedures. Anesthesia can be induced and/or maintained in four chambers, individually or simultaneously. Bain non-rebreathing circuits on each side of the machine allow two investigators to perform procedures simultaneously.
Part # 901808
V-1 Tabletop with Active Scavenging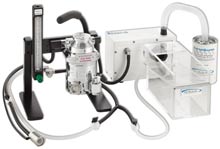 One dial setting delivers a consistent and safe anesthetic level.
Manuals include a "cookbook" protocol which can easily be adapted to your facility's SOP.
All waste gases are scavenged for easy evacuation.
Breathing circuits allow flat, prone or supine positions with head access.
Suitable for mouse, rat, hamster, gerbil, guinea pig, ferret, rabbit, cat, dog or small swine.
Positive sealing gasket on induction chambers minimize exposure to any waste gases.
Can be connected to in-house evacuation, a fume hood or a disposable charcoal filter for complete mobility.
Part #901820
Part #901806 (system with passive accessory package)
VetEquip V-10 Anesthesia Mobile System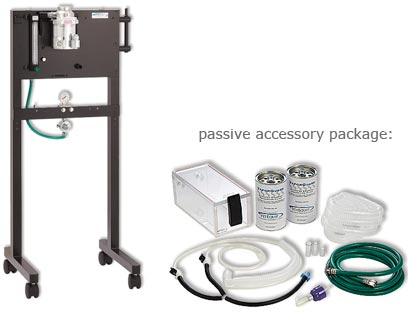 Part #901807 (with passive scavenging accessories)
Part #901822 (with active scavenging system)
Part #932022 is optional dual O2 tank manifold on stand
VetEquip V-9 Wall Mount System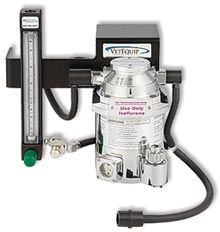 Part # 901824 (system with active scavenging)
Part # 901810 (system with passive scavenging)
Midmark VMR®
Designed for safe, simple and controllable inhalation anesthesia for rats, small rodents, exotics and patients weighing less than 5 pounds. The VMR provides rapid control of anesthetic depth with little or no resistance to respiration. The VMR is adaptable to the needs of the researcher.
Non-rebreathing anesthetic delivery system
Dual-view oxygen flowmeter - glass tube with a fused scale that reads from 0-1000 cc/min - quickly switch from standard to magnified view at the touch of a finger.
Includes Isoflurane or Halothane VIP 3000 vaporizer, well-fill or key-fill style, or Sevoflurane well-fill style VIP 3000 Vaporizer.

Part # 91800218
Midmark VMR® Tabletop
Designed for safe, simple and controllable inhalation anesthesia for patients weighing less than 5 pounds.
Non-rebreathing anesthetic delivery system
Dual-view oxygen flowmeter - glass tube with a fused scale that reads from 0-1000 cc/min - quickly switch from standard to magnified view at the touch of a finger.
Includes Isoflurane or Halothane VIP 3000 well-fill style Vaporizer.
Rubber feet
Built-in handle

Part # 91805060
For more detailed information on VetEquip systems: vetequip.com
See the complete line of Midmark products: midmark.com
Search CMS: