Midmark Progeny Vet Vision Dental Imaging
VetVision complete partners the Best-Of-Breed VetVision DC dental x-ray and Progeny's high resolution digital sensor in one convenient, easy to use system.
The latest DC X-ray technology with a 0.4mm focal spot
A high resolution digital sensor connected at the X-ray head
The sensor is stored directly on the arm where it is safe and handy
Sensor can be easily removed for cleaning or other storage
Available with #1 or #2 size sensor
Available as mobile unit
56", 66", 76" or 82"* arm reach. *82" arm reach sold with double stud mount.

Part # DCV7-G2A/S1
Midmark VetPro™ 1000 Mobile Dental Delivery
Introducing the VetPro™ 1000 Mobile Dental Delivery System from Midmark. Our exclusive, oil-free technology means there is no oil to contaminate your handpieces, providing a clean, dry, aseptic work environment for you, your staff and your patients. And best of all... no more oil changes. That's better for your staff and better for the environment.
Eliminates oil exposure to patient
Healthy alternative for patient and clinician
No messy oil changes
Ecologically friendly
Reduces costly handpiece degradation
Improves dental bonding quality

Part # 8000-001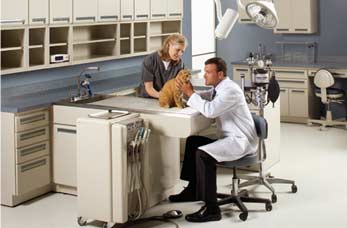 Why choose between durability and stylish appearance when you can have both?
Midmark Modular casework provides the durability of stainless steel construction, while giving you the customizable options of designer wood grains and modern color selections that will make an impact on the working environment for your clients and staff. The modular versatility and design options allow you to maximize the efficiency of any size space.
Self-cleaning, ball bearing glides are fully adjustable for future storage changes
One-piece, seamless drawers are designed for spill management and easy asepsis control
Easily reconfigured systems allow you to add, rearrange or even move your casework with you
VetPro™ 5000 Wall/Cabinet Mount Dental Delivery System
Introducing the VetPro™ 5000 Wall/Cabinet Mount Dental Delivery System from Midmark. This new unit features a unique whip-style delivery head that automatically activates the appropriate hand-piece during the dental procedure eliminating the problem of tangled hoses... a Midmark exclusive in veterinary dental equipment! The VetPro 5000 was designed to support both wall mount and cabinet installations, saving valuable floor space in a crowded clinical environment. The flexible arm supporting the delivery head reaches 76" inches from the wall enabling easy access to the patient with our Canis Major™ "Wet" table as well as swiveling flush to the wall when not in use.
Whip-style delivery head design allows virtually infinite positional preferences based on user and patient variables.
Automatic handpiece activation allows you to focus on the patient and procedure instead of fumbling with foot or hand controls.
Wall or cabinet mount capability means you no longer have to wheel the cart around the table during a procedure while fumbling with hoses and foot controls. Simply slide the head over to the table once and adjust without leaving your seat!

Part # 8001-001-341